WebRTC Interface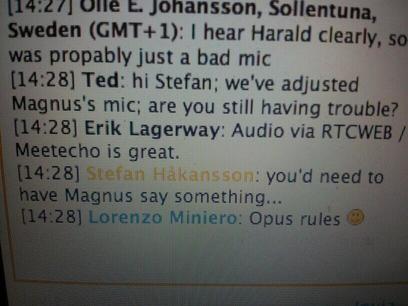 This interface wraps the Jabber room, lets you follow the slides being projected, and shows you an audio/video feed from the room. Audio and video are made available exclusively by means of WebRTC!
Both Chrome and Firefox are supported. For audio, a patched version of Asterisk we prepared will take care of Opus-based audio mixing, while for video we use our open source, general purpose WebRTC gateway Janus instead.
The screenshot that follows gives you a feel of how the interface is organized. On the left an accordion menu displays the Jabber room participants and the public chat. On the right end, instead, the currently active video feeds are displayed: you'll be there as well, which doesn't mean other people can see you already though (more on that later), but only that the browser got access to your webcam and is doing a preview. In the middle you'll get the current slides.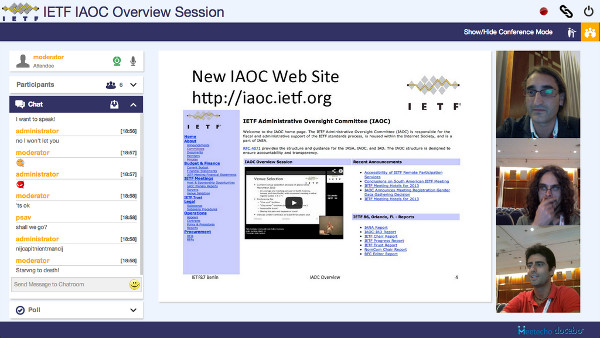 Of course you're free to participate in the Jabber room, as if you were using a regular Jabber client. Just use the Send Message to Chatroom text box below the public chat and say whatever comes to your mind (well, maybe NOT everything that comes to your mind!)

Have something you want to say instead? Just in some experimental sessions (see Umpire Project) you can raise your hand and enter the "virtual queue"! In the upper left part of the screen you'll see a few icons right where your display name is. Everything related to the media feeds is moderated, and the "hand" icon allows you to request the permission to speak. You might also want to state your willingless to actively participate on the Jabber room to make your intention clearer and draw our attention. As soon as you'll be allowed to speak, an audio announcement will tell you so ("You're now unmuted") and your voice will be heard in the room!
IMPORTANT: to avoid disrupting the session flow with unwanted echo or noises, if you're going to be a remote speaker PLEASE choose a quiet room and wear a headset!
As soon as you're done, hit the Stop sign that will be in place of the Hand one, and you'll release the floor for other speakers.

Well, that's all I guess... almost at least! See those two icons in the upper right part of the screen? The allow you to switch in between modes, that is, between slides+feeds or a mosaic of the active video sources only.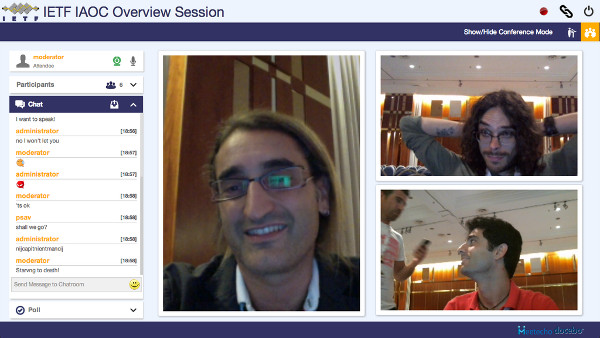 Enjoy, and let us know what you think about it!